This riddim originates from the Skengdon label,first track is by Super Cat titled,what else,Mud Up. Chaka Demus cut a track at this riddim (one of the four he did) ,Jump Up, that was very succesful, so the riddim is also known as Workie Workie,because of this repeated lyric in the tune.Pretty big in the late 80s and early 90s this riddim,so a second return at 2006.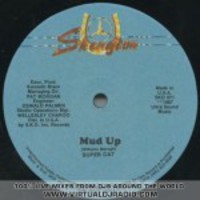 Tunes on Mud Up riddim
We do not have songs to show... Sorry.